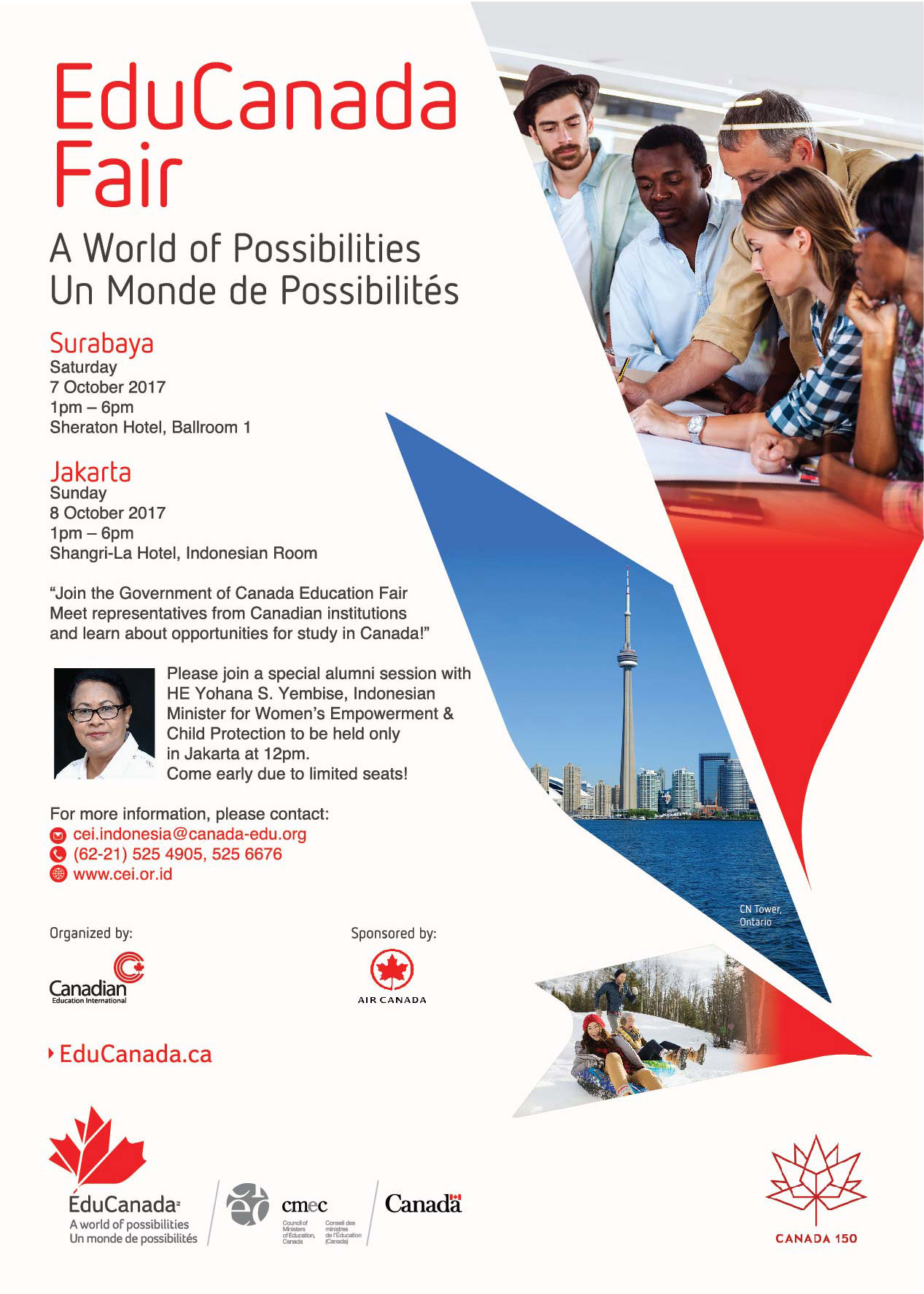 Canadian   Education    International   has   been   entrusted with the privilege of organizing EduCanada Fair for many years and every year we have always endeavored to bring more prominent Canadian institutions to come and meet with students in Indonesia. This time is no exception.
We are proud to announce that University of British Columbia, Fairleigh Dickinson University (Vancouver Campus), University of the Fraser Valley, University of Guelph, Lakehead University, Mount Royal University, University of Northern British Columbia, University of Ontario Institute of Technology, Ryerson University, Simon Fraser University – Fraser International College, Thompson Rivers University, University of Toronto, Vancouver Island University, University of Victoria (English Language Centre), University of Waterloo, York University along with many other popular polytechnics and colleges in Canada will participate in the EduCanada Fair 2017, which will be held in Surabaya (Saturday, 07 October 2017) and Jakarta (Sunday, 08 October 2017).  There will be direct school representatives coming to meet with the students personally! Enclosed is the promotional material for the said event and we sincerely hope that you will be able to share the information with the rest of your family & friends.
This year, we are also pleased to invite you to attend the EduCanada Special Alumni Session:
Time & Date: 1200pm-0100pm, October 7, 2017
Location: Terrace Room, Sheraton Hotel Surabaya
Featuring Mr. Andy Setiawan, Overseas Business Managing Director, PT Surabaya Indah Permai and Ms. Julia Laksmana, Head of Production, Perusahaan Roti Matahari
Time & Date: 1200pm-0100pm, October 8, 2017
Location: Maluku Room, Shangri-La Hotel Jakarta
Featuring HE Yohana S. Yembise, Indonesian Minister for Women's Empowerment & Child Protection and Mr. Ipung Kurnia, Chairman of the Supervisory Board, The Hero Group
For reservation to the EduCanada Special Alumni Session, please do not hesitate to contact us at 
cei.indonesia@canada-edu.org
 or call us at (+62-21) 525 4905 / 525 6676.
 You can also "like" us at Facebook (CanadianEducationInternational) or "follow" us at Twitter (@CDN_EDU_INTL).