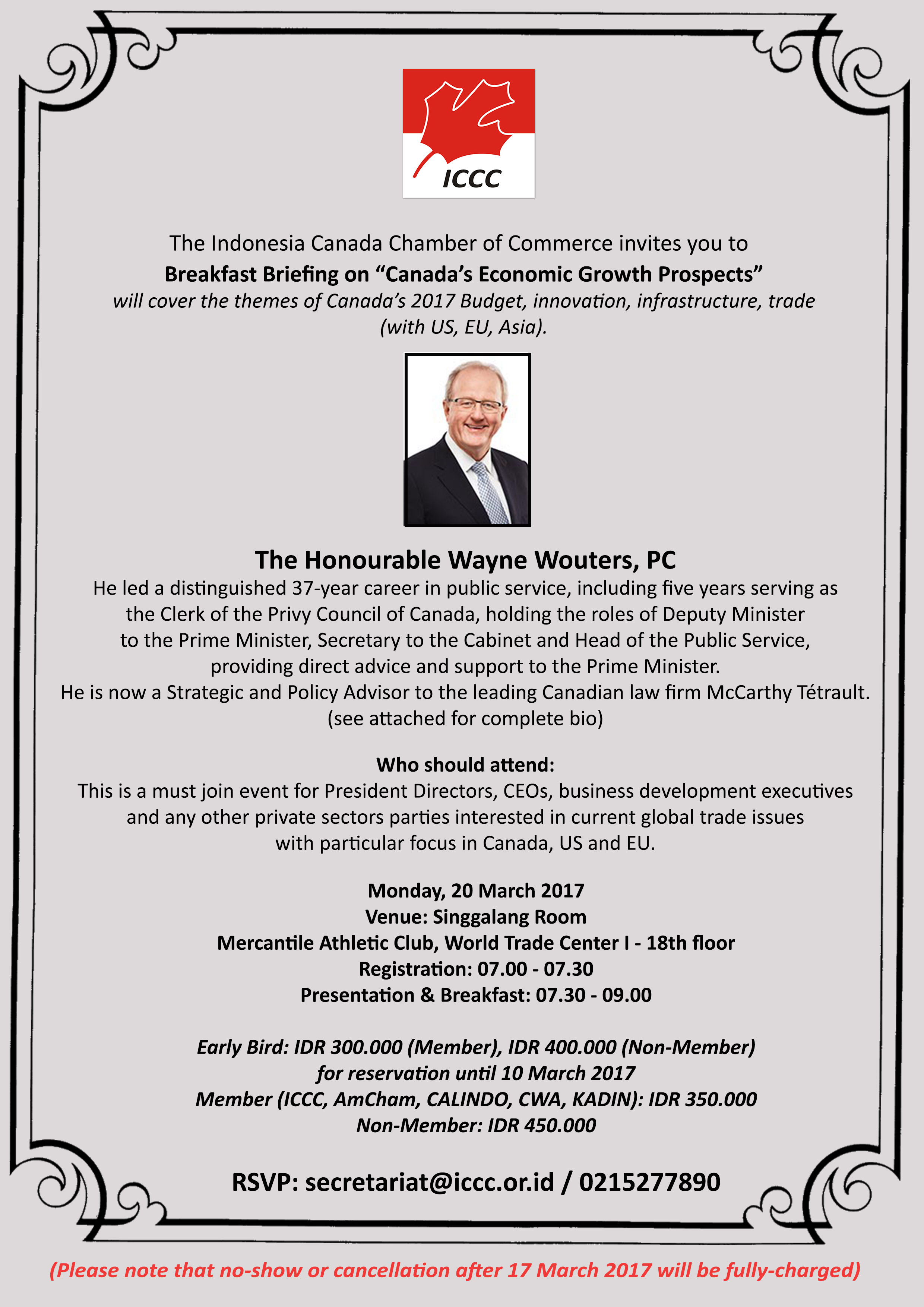 The Indonesia Canada Chamber of Commerce invites you to
Breakfast Briefing on "Canada's Economic Growth Prospects"
will cover the themes of Canada's 2017 Budget, innovation, infrastructure, trade
(with US, EU, Asia).
The Honourable Wayne Wouters, PC

He led a distinguished 37-year career in public service, including five years serving as
the Clerk of the Privy Council of Canada, holding the roles of Deputy Minister
to the Prime Minister, Secretary to the Cabinet and Head of the Public Service,
providing direct advice and support to the Prime Minister.
He is now a Strategic and Policy Advisor to the leading Canadian law firm McCarthy Tétrault.
(see attached for complete bio)
Who should attend: 
This is a must join event for President Directors, CEOs, business development executives
and any other private sectors parties interested in current global trade issues
with particular focus in Canada, US and EU.
Monday, 20 March 2017
Venue: Singgalang Room
Mercantile Athletic Club, World Trade Center I – 18th floor
Registration: 07.00 – 07.30
Presentation & Breakfast: 07.30 – 09.00
Early Bird: IDR 300.000 (Member), IDR 400.000 (Non-Member)
for reservation until 10 March 2017
Member (ICCC, AmCham, CALINDO, CWA, KADIN): IDR 350.000
Non-Member: IDR 450.000
RSVP: secretariat@iccc.or.id / 0215277890
(Please note that no-show or cancellation after 17 March 2017 will be fully-charged)