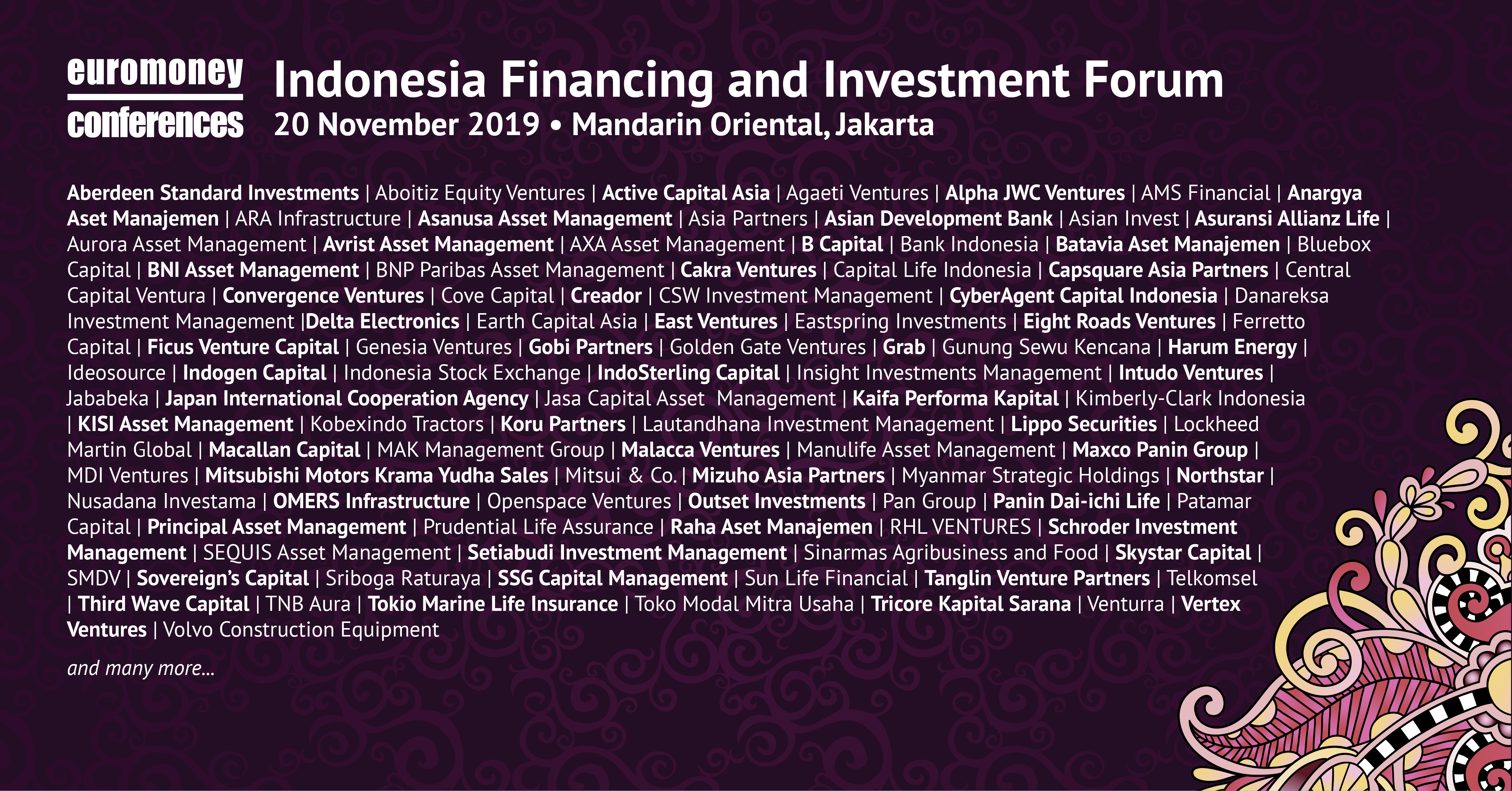 Join the Indonesia Financing and Investment Forum, which will be held on 20 November 2019 at the Mandarin Oriental Jakarta, to meet and network with over 500 local and global business executives, investors, financiers, industry experts and policymakers who will gather to address the economic outlook for the country and explore the key topics including:
• Focus on where the opportunities and challenges for your business lie within the Indonesian economy in 2020
• Understand the steps Indonesia is taking towards advancing it's green agenda and what that means for the capital markets structure
• Explore the latest in Indonesia's Infrastructure financing landscape and where the next project opportunities lie
• Engage with startup sector in Indonesia and identify the next 'big thing' including eWallet, InsurTech and HealthTech
• Increase your understanding of the regional automotive market and the impact of Indonesia becoming the electronic vehicle production hub in Southeast Asia
Other speakers confirmed include:
Luky Alfirman, Director General Budget Financing and Risk Management, Ministry of Finance, Republic of Indonesia
Grant Dooley, CEO, ARA Infrastructure
Kin Wai Chan, PPP Specialist, Office of Public-Private Partnerships, Asian Development Bank
Winfried Wicklein, Country Director for Indonesia, Asian Development Bank
Nithapong Senavongse, Vice President and General Manager, Jakarta Branch, Bangkok Bank
Vincent Iswaratioso, CEO, DANA
Melisa Irene, Partner, East Ventures
Dave Ng, Head of Southeast Asia, Eight Roads Ventures
Ongki Kurniawan, Executive Director, Grab Indonesia
Ignatius Denny Wicaksono, Head of Business Development Division, Indonesia Stock Exchange
Tomoyuki Kawabata, Senior Representative, Indonesia Office, Japan International Cooperation Agency
Ezra Nazula, Director and CIO, Fixed Income, Manulife Investment Management
Cleosent Randing, Founder & CEO, PasarPolis
Gregorius Bimantoro, Founder, ProSehat & Indonesia HealthTech Association
Saurabh Markandeya, Co-Founder and Co-CEO, The SHADO Group
Nazier Ariffin, Head of Strategic Investment, Telkomsel
and many more…
>> View the latest agenda and speaker update here
For more information about the event, please contact the customer services team at rsvp@euromoneyasia.com
* Euromoney reserves the right to decide eligibility for attendance. There are limited free places available only to institutional investors, asset managers, private equity funds, regional SMEs and senior executives of large domestic and multinational corporations. Intermediaries such as accountants, lawyers, investment bankers and consultants are required to pay for attendance.
By applying for a place at the conference, you agree to be bound by our terms and conditions which are available upon request or can be found on our website via this link.