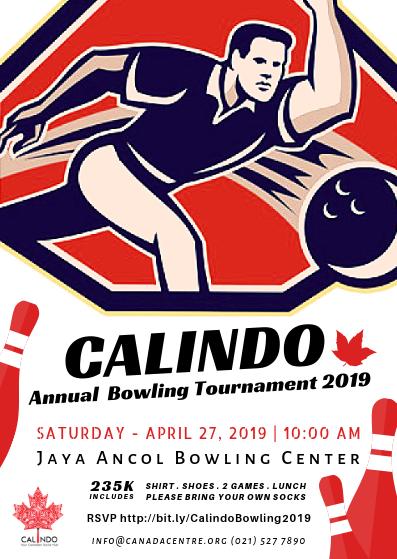 *****PLEASE NOTE OF THE NEW DATE AND NEW VENUE*****
CALINDO Annual Bowling Tournament 2019
This year the Calindo Annual Bowling Tournament is BACK!
There's no better way to start a fun weekend than getting your CALINDO 2.0 friends and families together, putting on bowling shoes, and doing your best to knock over some of those pins.
Join the Fun!!
Saturday, April 27, 2019
1000 am – finish
@ Jaya Ancol Bowling Center, Ancol, Jakarta Utara
IDR 235,000 Admission Fee Includes:
Cool T-shirt, Shoes rental, 2 games, Lunch, Lots of Prizes
Help our organizing team by reserving well in advance which will allow them to prepare all the food, fun, shirts, and prizes!
NOTES: 
All payment should be paid to Calindo Account via Bank Transfer
Bank CIMB Niaga 800081862600 a/n PERKUMPULAN CALINDO
For further info, contact Secretariat at 021 527 7890 or e-mail: info@canadacentre.org